MHS Welcomes New Principal Mr. Robert Goodall
MHS Welcomes New Principal, Mr. Robert Goodall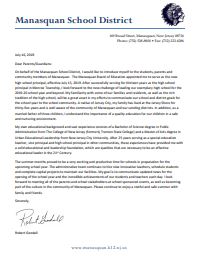 On July 15 the Board of Education approved Mr. Robert Goodall as Manasquan High School's next principal.
Mr. Goodall is currently the principal of Monroe Township High School, a role he has been in since 2005. As Mr. Goodall completes his service in his current district and joins us in Manasquan, we will notify you of opportunities to come in and meet him as he prepares for the opening of school.
Read Mr. Goodall's Welcome Letter here.
---