New Manasquan HS Bell Schedules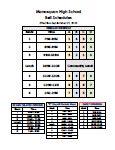 New MHS Start Time & Bell Schedules
As we implement the new high school schedule, we are conscious of the feedback provided by our stakeholders. One item of concern was the three-minute passing time between classes.
With this in mind, the Board of Education approved a recommendation that will begin our high school day at 7:34 AM, four minutes earlier than it is currently. By not changing the dismissal time, this will allow us to add one minute to each passing time to assist our students and teachers with making it to class on time.
This change took effect Monday, September 24.
---